The Spiritpact wiki has successfully made the migration to Fandom in the extended final stages of the mass transfer of wikis today, Monday February 18th!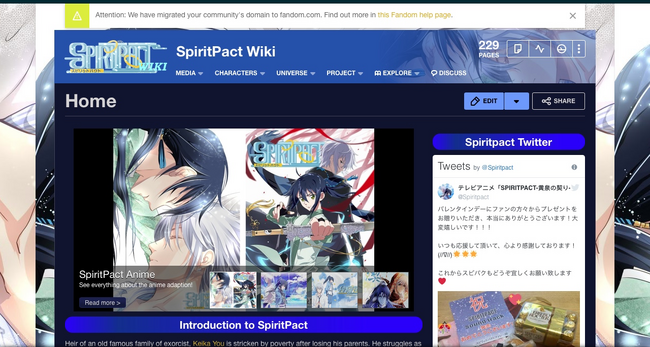 This was an undertaking long in the planning stages beginning with Fandoms rebranding in October 2016. It would be later, October 2018 that Fandom officially began the migration, gradually transferring around 350,000 communities over months to a planned completion date of February 4th.
On the advice of Google, Fandom slowed the process for the remaining wikis (around 10% of site traffic) since there was an issue with Google ads. This resulted in the deadline being extended near the end of February.
Out of all the possible dates, this day was Spiritpact's special day duly noted in this entry for references purposes and to ensure it is not just the article pages, but that the wiki itself is informative.
This blog entry is also suitable for confirming the pre-planned direction of the wiki in addition to laying out routes for expansion. Fandom's mass migration taps into envisioning the site as a community effort that ties into pop culture. This is perfect for Spiritpact, a manhua and anime based series with many additional materials for everyone to view and enjoy.
To reiterate, the wiki shall continue to be developed ever further as the most comprehensive source on everything concerning Spiritpact. From the characters, story, the anime to events, everything. In addition to these articles pages filled with officially sourced information, it is also encouraged for contributors to share their input in other ways. They are available and must be used to their full potential and so Profile pages, blog posts and Discussions are free to be fully embraced to decorate with fan made content. This can range from fanart, fan fiction to theories, personal analysis on the series, anything desired.
The site can maximise on the benefits of the transfer to Fandom, and these positive improvements are a binding band so that everyone may make this wiki better to support the series, and enjoy adding however they like, enjoy!
Community content is available under
CC-BY-SA
unless otherwise noted.